Featured Online Resources
This month at our library – July Newsletter
July at the Mansfield Public Library
The Mansfield Public Library is the place to be this summer!  We have a variety of events planned for all ages.  Join a drum circle, watch a movie, color a picture, listen to a folk duo, sing along with local favorite Wayne Potash, meet a miniature horse, win summer reading prizes and even play mini-golf inside the library!
Take a look below at all the fun events we have planned to keep you visiting the library this month.  Remember to stock up on books, movies, audiobooks, and music cds,  both in the library and online!
Freegal®Music
is a free music service from your library.
The Mansfield Library now has access to streaming
! All you need is your library card number. Freegal offers access to about 7 million songs, including Sony Music's catalog of legendary artists. In total the collection is comprised of music from over 28,000 labels with music that originates in over 80 countries. There is no software to download, and there are no digital rights management (DRM) restrictions. Access to Freegal is limited to patrons of subscribing libraries.
Also available as a FREE App in your app store! Download music right to the app in your smart device and listen at any time!
Check us out this July!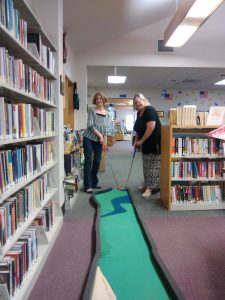 Catherine Coyne, Library Director
Announcing the NEW Library App
There's an app for that…your local library that is!
The Mansfield Public Library is proud to announce the release of our new mobile app. It is  available for free download in the
iTunes
and
Google Play
stores.  Once downloaded on your smart phone or tablet you will have quick and easy access to features like:
Program and Activity Information
One Touch Calling
Community Links
Upcoming Events
You will also be able to receive important notifications through the use of Push Notifications. These messages will keep you informed of schedule and program changes, registration reminders and important event information.
Download today!!
Online Video Tutorials
The library now has a new collection of 
Online Video Tutorials
 for our online resources as well as various social media tools. Learn how to use Overdrive and download eBooks, or how to download FREE music using Freegal.  There are tutorials for Ancestry.com, Zinio and more.  Learn how to sign up for a Facebook account or how to send tweets using Twitter. These videos will walk you through the basics of getting started. Provided by Niche Academy.
The Library
"It's funny that we think of libraries as quiet demure places where we are shushed by dusty, bun-balancing, bespectacled women. The truth is libraries are raucous clubhouses for free speech, controversy and community. Librarians have stood up to the Patriot Act, sat down with noisy toddlers and reached out to illiterate adults. Libraries can never be shushed."
–Paula Poundstone, comedien
We hope you are enjoying our newsletter! Please let us know if you have any questions, requests, or comments.
Email
us, call 508-261-7380, or stop by 255 Hope Street in Mansfield.
Thank you for supporting the library.