~~~~~~~~~~~~~~~~~~~~~~~~
Burbio
~~~~~~~~~~~~~~~~~~~~~~~~~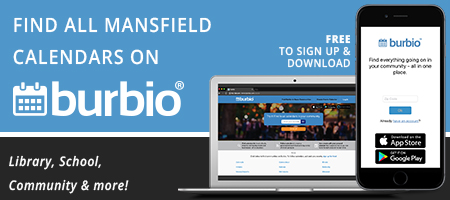 Burbio.com is a FREE website and app that puts Mansfield
community events in one calendar for easy viewing.
By signing up for Burbio, users can create a personalized event feed. Those events can then be synced to a Google or iPhone calendar. Users can also receive notifications when events are rescheduled or get cancelled.
Sign up at Burbio.com or download the free iPhone or Android App and follow the calendars that interest you.

For more information on Burbio.com,
please call Mansfield Public Library at 508-261-7380
~~~~~~~~~~~~~~~~~~~~~~~~~~~~~~~~~~~~~~~~~~~~~~~~~~~~~
SAILS Mobile App
~~~~~~~~~~~~~~~~~~~~~~~~~~~~~~~~~~~~~~~~~~~~~~~~~~~~~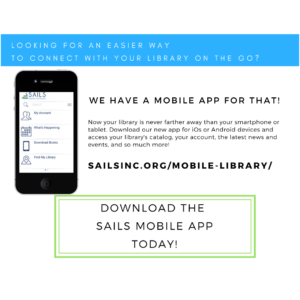 We are very excited to announce the availability of the SAILS Mobile app in the Google Play and Apple stores!
Apple: https://itunes.apple.com/us/app/sails-mobile/id928540707?ls=1&mt=8
Android: https://play.google.com/store/apps/details?id=com.sirsidynix.SAILS2gobm
You should download it today and take advantage of these great features:
• Search for items in the network by title, author, subject, or general keyword and place
holds on interesting titles.
• Manage your account – view your checked-out items, fines, account information and
manage holds. You can also link accounts to manage your family's checkouts and
holds, all in the same place.
• Find libraries in the network, see if they're currently open, and decide what events you
want to attend.
~~~~~~~~~~~~~~~~~~~~~~~~~~~~~~~~~~~~~~~~~~~~~~~~~~~~~
Additional Featured Online Resources
~~~~~~~~~~~~~~~~~~~~~~~~~~~~~~~~~~~~~~~~~~~~~~~~~~~~~
 Check out our  e-Magazine service- Flipster!

Download the Flipster app to your device to read your magazines anytime, anywhere!

Check out our three new databases!
Featured Museum Pass through February: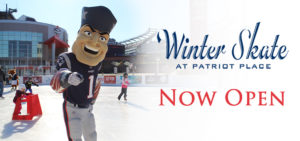 Winter
Skate
 is an ice-skating rink located at Patriot Place in Foxboro.  It offers  day and evening public skating, for beginning skaters and experts alike.
There are onsite skate rentals, bathrooms, and free parking.
Mansfield Public Library has passes available now through mid-February.  Passes are available every day of the week. Each pass admits 2 adults and 2 children, free of charge.  Passes
do not
include 
skate
 rentals.
————————————
The Mansfield Public Library provides free to our patrons, passes and admission discounts to more than 25 area museums and parks!
Please be aware that passes reserved for a day that the library is closed must be picked up during open library hours prior to the day in question.
Click here to reserve your pass today!
The Friends of the Mansfield Public Library
Friends Book Sale
Come visit the Friends of the Mansfield Public Library's
ongoing book sale shelves and find some great books.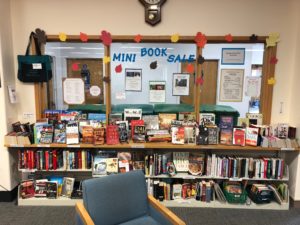 Donations of gently used books and magazines are always welcome. Items must not have been stored in an attic or basement.  Must be in excellent condition – no ripped pages, no yellowing of pages, no uncovered hardbacks.
DO NOT put donations in the book drop! Thank-you!

Support The 

Friends

 of the Mansfield Public Library

The 
Friends
 of the Library participate in the Amazon Smile program.
If you are doing holiday shopping through Amazon, we would be grateful if you selected the 
Friends
 of the Mansfield Public Library, MA as your designated charity in the Amazon Smile Program. The 
Friends
 receive a percentage of your spending, funded by Amazon, at no cost to you!
Click Here
and choose the
Friends
 of the Mansfield Public Library, Inc. Mansfield, MA.
The Friends and the Library appreciate your support!
Please let us know if you have any questions, requests, or comments.
Email
us, call 508-261-7380, or stop by 255 Hope Street in Mansfield.
Thank you for supporting the library.