The Mansfield Public Library
The Mansfield Public Library was established in 1884. It is supported by tax dollars from the Town of Mansfield, donations from the Friends of the Library and some state aid. It is governed by a five member board of Trustees appointed by the Board of Selectmen and a member of SAILS, Inc., a cooperative system of public and school libraries in 60 communities.
Mission Statement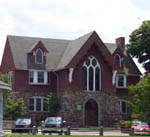 The mission of the Mansfield Public library is to serve the  informational, educational, recreational and cultural needs of the citizens of  Mansfield by:
maintaining and expanding its collection of popular materials
encouraging and facilitating lifelong learning and reading including  serving as a preschooler's door to learning
supporting formal education with complementary programs addressing  diverse interests and needs for all age groups including the adult  independent learner
serving as a community activity center
maintaining reference services and a comprehensive collection of current  and historical materials pertaining to local government
promoting the free flow of all information, without censorship or bias,  through adherence to the American Library Association's.
Board of Library Trustees
Nancy Breef-Pilz, Chairperson
Leonard Epstein
Jennifer Hill
Marianne Mackie
Jean Mallon
The Trustees meet once per month from September through June on the first Saturday of each month at 8 am at the Library. Trustees meetings are posted at the Mansfield Town Hall and open to the public as per the Open Meeting Law. Bill of Rights; and,  cooperating with other libraries and resource centers.
Professional Library Staff
Catherine Coyne, Library Director
Nina Hernandez Taylor, Head of Youth Services
Whitney Karen Brown, Head of Reference/YA Librarian
Kristen Lyle, Reference Librarian
Mary Plumer, Children's/Reference Librarian
Library Policies