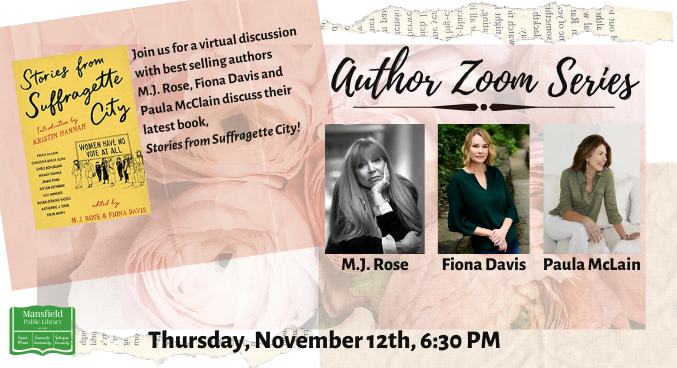 On Thursday, November 12th at 6:30 PM the Mansfield Public Library is extremely honored to host a virtual event with best-selling authors, M.J. Rose, Fiona Davis and Paula McLain for a discussion of their new book, Stories from Suffragette City!
This event is free and open to all. Registration Required for invitation to Zoom Meeting Room. Registrants will receive the invitation to the Zoom Meeting Room on the day of the event. Click HERE to register for this event.
For more information on this program or any other adult or teen program at the library,
please contact Whitney Brown, Reference/Teen Librarian, at (508) 261-7380 or email wkbrown@sailsinc.org.
---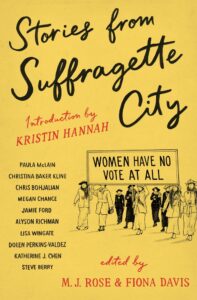 One City. One Movement. A World of Stories.
Stories from Suffragette City is a collection of short stories that all take place on a single day: October 23, 1915. It's the day when tens of thousands of women marched up Fifth Avenue, demanding the right to vote in New York City. Thirteen of today's bestselling authors have taken this moment as inspiration to raise the voices of history and breathe fresh life into their struggles and triumphs.
The characters depicted here, some well-known, others unfamiliar, each inspire and reinvigorate the power of democracy. We follow a young woman who is swept up in the protests when all she expected was to come sell her apples in the city. We see Ava Vanderbilt as her white-gloved sensibility is transformed over the course of the single fateful day. Ida B. Wells battles for racial justice in the women's suffrage movement so that every woman's voice can be heard. Each story stands on its own, but together Stories From Suffragette City becomes a symphony, painting a portrait of a country looking for a fight and ever restless for progress and equality.
With an introduction by Kristin Hannah and stories from:
Lisa Wingate
M.J. Rose
Steve Berry
Paula McLain
Katherine J. Chen
Christina Baker Kline
Jamie Ford
Dolen Perkins-Valdez
Megan Chance
Alyson Richman
Chris Bohjalian
and Fiona Davis
---
Praise for Stories from Suffragette City
"A landmark 1915 protest for women's suffrage is the setting for the dozen short stories in this rousing anthology…A diverse range of vivid characters brings human faces to a historical protest march."
–Kirkus Reviews
---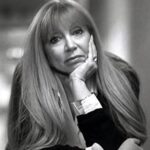 M. J. Rose is the New York Times and USA Today bestselling author of over 20 novels, including The Book of Lost Fragrances and Cartier's Hope, more than half of which have appeared on the Indie Next List. The Fox TV series Past Lives was based on M.J.'s novel The Reincarnationist. Her books have been translated into more than 30 languages.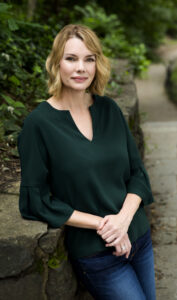 Fiona Davis is the nationally-bestselling author of historical fiction set in iconic New York City buildings, including NYT best-selling The Lions of Fifth Avenue, The Chelsea Girls and The Masterpiece. Her books have appeared on the Indie Next List, been LibraryReads Picks and TheSkimm Reads Pick of the Week, and have been translated into over a dozen languages.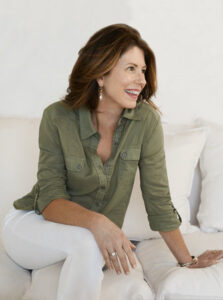 Paula McLain
 is the 
New York Times
 bestselling author of the novels 
Love and Ruin,Circling the Sun, The Paris Wife, 
and
 A Ticket to Ride, 
the memoir
 Like Family: Growing Up in Other People's Houses, 
and two collections of poetry. Her writing has appeared in 
The New York Times, Good Housekeeping, O: The Oprah Magazine, Town & Country, The Guardian, The Huffington Post,
and elsewhere. She lives in Ohio with her family.