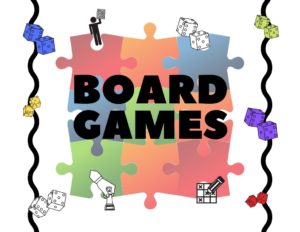 When:  Every day
Where:  Teen Space
Choose from a variety of games, puzzles, brainteasers, and more.
Ask at the Reference Desk for the key to the game case.
Board games are available for all to play in the library.
| | | | | |
| --- | --- | --- | --- | --- |
| Game Title | # of Players | Game Time | Age Range | Description |
| Are You Smarter Than A 5th Grader | 2-4 players | 25 mins | 8+ | Now you can bring the hit TV quiz show home! Play the game the pits kids against the grown ups for ultimate bragging rights!! All you have to do to claim victory is answer 11 questions an average 5th grader knows, sounds like child play but would you know? Or would you need to cheat off a classmates answer to answer correctly? You may not have all the answers or you will either walk away with the 1 million dollar prize or have to admit "I am not smarter than a 5th grader" |
| Big Boggle | 2+ players | 15 mins-30 mins | 8+ | Shake up the 25 letter cubes and try to spot as many hidden words as you can. Race against the 3 minute timer as you follow adjoining letters every which way for searching for words you hope your opponents don't find. When time runs out, players compare their list, and get points for each unique words they found. Player with the highest score wins. The larger 5 by 5 grid puts nine more letters in play than standard boggle. You can make longer words and score higher than ever. Advanced team and handicaps variants are included. No matter what age or skill level, you will find it fun to compete with anyone. The double letter cube features the six most important two letter combos in the English language making it easier to form 5-6 letter words and even longer ones. |
| Can You Name 5 | 2+ and 2 teams | 30-60 mins | 12+ | Can you name 5 things make a person sneeze? How about 5 TV Dads? 5 video games? Fruits or vegetables beginning with an "A"? Name 5 is the outrageous party game that asks the easy questions you know the answers to. Sure, you know one movie starring America's sweetheart or a certain Hollywood heartthrob, maybe even 2, but can you name 5? |
| Chat Pack | N/A | N/A | 6+ | Fun questions to start conversations, contains 156 cards each one featuring question to get people talking like nothing else can. Pull out a card and watch the fun begin |
| Chess | 2 | 30 mins to an hour | 8+ | Know the game or don't play |
| Guess Where? | 2 players | 15 min | 6+ | Find the family in this game of hide and seek. Everyone is home, but in which rooms are they hiding? Find out by asking your opponents by yes or no questions. Is mom in the bedroom? Is the cat in the family room? Is anyone in the bathroom? Find all the family members first, and you win! |
| Michigan Rummy | 3 to 8 | N/A | 8+ | N/A |
| Monopoly Deal Card Game | 2 to 5 | 15 mins | 8+ | Fast paced, addictive card game where your luck can change in the play of a card! Collect 3 complete property sets, but beware Debt Collectors, Forced Steals and dreaded Deal Breakers which could change your fortunes at any time. |
| Monopoly Nintendo | 2 to 6 | N/A | 8+ | The most recognizable and unforgettable characters in the video game industry have teamed up to bring you the Nintendo collectors edition of the world's most popular board game: Monopoly! No controllers are necessary this time as you join forces with Mario, Luigi, Link, Zelda, Kirby and others on a quest to defeat your enemies and own it all. |
| Pentago:  The mind twisting game | 2 players | 3 mins-30 mins | 6+ | Pentago is a fast and fun strategy game that is both simple and sophisticated. The object of the game is to create a row of 5 marbles on the board. The mind twisting part is that you twist on of the four game blocks as part of your move. This causes the game to dramatically change. Making for a fun and challenging game experience, for the beginners and masters alike |
| Pictureka! | 2 or more | 30 min | 6+ | It is an outrageous contagious picture hunt. In this game it's finders keepers. You get the card, if you find the objects first, collect enough cards to win, and you are the Pictureka! champ |
| QuadDoku | 2 to 4 | 30 min | 8+ | Stacking tiles to make words, fast playing family fun, challenging for players from 8 to adult, Dokus double the score |
| Qwixx | 2 to 5 | 15 mins | 8+ | This quick playing dice game will have you on the edge of your seat from beginning to end! Qwixx is simple to play but each decision is crucial. The more number you cross off, the more points you score. With no downtime between turns, you will have a change to gain from each and every roll. Just one round of this rolling game and you'll be caught up in Qwixx fever |
| Rush Hour Traffic | 1 player | N/A | 8+ | Its gridlock on a small scale but with some quick witted strategy, you will relive the congestion and get your red car racing onto the open road. An intriguing, mobile game, that builds critical thinking skills |
| Scrabble: SLAM! Card Game | 2 to 4 | 15 mins | 8+ | Scrabble SLAM is a high speed four letter word game. Race against each other to change the existing word and get rid of your cards! GAME could become FAME and FAME can become FATE-you never know where you will go with Scrabble SLAM!! |
| Tarot | N/A | N/A | 3+ | Unlock the secrets of mystical art and with this unique instruction book and tarot deck. Follow the simple instructions to discover the meanings behind the cards and learn how to conduct your own Tarot readings. |
| The Game Of Scattergories | 2-6 players | N/A | 12+ | Name a restaurant, fruit, toy, Halloween costume, and weapon. Make sure all your answers start with the same initial letter. If C is the letter, you may answer Chinese, cantaloupe, cap gun, clown, and catapult. But be unique, if your response is the same as your opponent, you score nothing. Dozens of different categories to answer (144 categories). Which answer will win the game? Will it be Cantanese instead of Chinese, or choo choo train instead of cap gun? |
| The Twilight Saga: Eclipse The movie board game | 2 to 8 | 30 mins | 13+ | Enter the world of Twilight Saga Eclipse. It all begins with a choice. Which path will you choose. Make your choice, then collect friends, movie scene cards, and face the newborn army. The more you know about the twilight saga eclipse, and your friends, the better you have a chance of winning |
| Triominos | 2 to 4 | 30 mins | 7+ | Triominos adds a whole new dimension to dominos. Creates extra strategy, extra play, and extra fun! On each turn, players match a tile to one that's already in play. Earning bonus points for special moves, like matching all three sides, it is a fast moving game that is easy to learn and great for players of all ages |
Board game descriptions courtesy of https://boardgamegeek.com.
Board game list created by library volunteers.