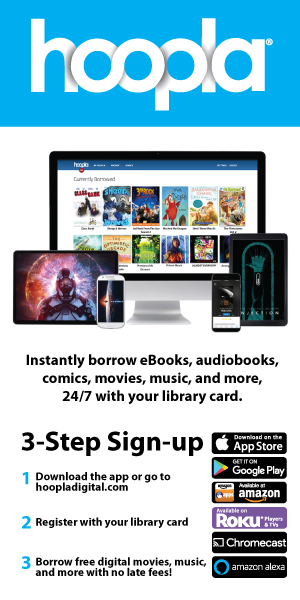 If you are:
a Mansfield resident
AND
a Mansfield Public Library cardholder
And are looking for movies, music, audiobooks, eBooks, comics and TV shows to stream on your home computer, phone, tablet, or TV, then look no further than Hoopla!
To get started with Hoopla, follow these steps:
Register for a Hoopla account on

hoopladigital.com

, by inputting an email address, creating a password, and typing in your Mansfield Public Library card number. This is all you will need to do if you would like to stream digital content directly through your desktop browser.

To use Hoopla on your mobile device, after you have registered for a Hoopla account, use your mobile device to download the Hoopla app at the bottom of the Hoopla Digital main page (pick the app store that corresponds to your device). This will allow you to download titles directly to your device for offline use, in case wi-fi is not  available.

Click here for further instructions on how to download the Hoopla App to your specific device.