Meets virtual on the LAST Tuesday of every month (EXCEPT July & August) at 3:00PM
What does TAB mean and what does it do?
TAB is the library's Teen Advisory Board and they:
Brainstorm with fellow TAB members on the types of programs you want to see at the library

Earn volunteer or community service hours

Advise the library on what materials to purchase for the Teen Area

Be advocates for the library!

Eat snacks!



TAB in the news!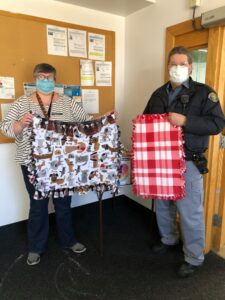 (February 25th 2021) Mansfield Animal Control Officer Jeff Collins stopped by the library today to pick up cat and dog blankets made by the library's Teen Advisory Board (T.A.B.). These blankets will go to adoptable cats and dogs at the Mansfield Animal Shelter. The DIY blanket project is part of the library's burgeoning Teen Makercause Initiative, which will offer (POST-COVID restrictions) space and supplies to teens with common interests in charity and volunteer work. Some project examples include: making and donating bags containing essential needs to homeless shelters, making appreciation gifts for frontline workers, or making toys or blankets for animal shelters. Teens can meet, socialize and work together on specific projects for said causes. For now, the library provides supplies in the form of Take & Make kits. Once the kits are picked up, the group meets via Zoom to work on the project together. Teens in grades 6 through 12 are encouraged to join T.A.B. and find out more information about the Teen Makercause Initiative. With regards to upcoming projects, we will continue to make DIY fleece blankets that will be donated to area animal shelters.
Questions? Comments? Suggestions?
Contact: Teen Librarian Whitney Brown – wkbrown@sailsinc.org – 508-261-7380