Getting a Library Card
There is no charge for a library card. Valid identification with current name and address is required. If you already have a SAILS card from another community, you may use it at the Mansfield Public Library. You may also switch over to a Mansfield card if you wish. There is a $1 charge for replacement of lost cards. Do not lend your card to anyone. You are responsible for all items taken out on your card. Adults must be in good standing to use their children's cards. Report lost, stolen, or destroyed cards immediately. Be sure to inform the library of name, address or phone number. You may register for a temporary online library card through this website: http://www.sailsinc.org/my-account/get-a-library-card/
If you already have a SAILS card from another community, you may use it at the Mansfield Public Library.
If you have moved to Mansfield, you may wish to switch over to a Mansfield card.
VERY IMPORTANT: You must present your library card every time you borrow books. This rule is for your protection. Absolutely no exceptions will be made at any time.

If you have forgotten your card, a staff member can assist
you in downloading the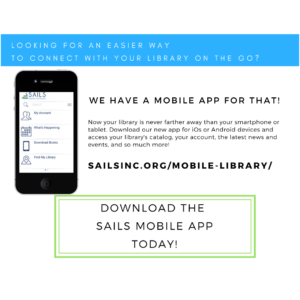 SAILS MOBILE APP, so you can have your library card number scanned onto your smartphone (Apple or Android). In order to do this, you must:

Have a Mansfield Public Library account

Have a current photo ID



If you do not want to download the SAILS MOBILE APP, the staff will be happy to hold any materials for three days during which time you may return to check them out with your card. 
Lost, Damaged, or Destroyed Items
Lost, damaged, or destroyed library materials must be reported immediately. The patron will be charged the cost of replacement.
Lost/Damaged Items Policy
75 days after being due, an unreturned Mansfield Library item will automatically be posted as lost. The patron will be charged for it. The patron must pay for the item before being allowed to check out more materials, even if the item is worth less than $10.
If an item is damaged, patron will immediately be charged for the cost of replacement of the item. The patron must pay for the item before being allowed to check out more materials, even if the item is worth less than $10.
Payment for a lost or damaged item must be paid in full; no partial payments are accepted. The patron can pay at the desk by cash or check. They can pay by credit card at one of the catalog computers or from home. There is a $.85 service fee.
If a patron has lost or damaged an item that is owned by another library, then we cannot take cash for the payment. They must pay in full by check or credit card.
Loan Periods, Fines, and Limits
Most materials can be renewed once on-line, by phone or in person. Fines for late returns are 5 cents per day with a maximum of $2.00. Fines for DVD's, Kits and CD-ROMs are 50 cents per day with a limit of $5. Patrons with fines over $10 or lost or overdue books must clear their records before borrowing more materials.
Payments Online: You may pay your fines online by logging into your account at www.sailsinc.org. Fines must be at least $.50 or more to pay online using a credit card. There is also an $.85 processing fee for this service.
Payments by Mail: Have you ever just wanted to mail in a payment for your library card fines or lost items? Just print out this form and mail it to the library, and we'll take care of processing the payment on your account.
Questions? Just call us at 508-261-7380.
Checkout period for materials:
Books – 4 weeks
Compact discs – 4 weeks
Audio books – 4 weeks
Kits – 4 weeks
New fiction – 2 weeks
CD-ROM software – 2 weeks
Magazines – 2 weeks
DVDs (TV sets) – 2 weeks
DVDs – 1 week